PRODUCT DESIGN, BRANDING, UI/UX, mechanical ENGINEERING, Motion
Intro
everything, always.
_
Your existing devices can only hold so much. The network can only reach so far. LINK bridges these gaps in connectivity and capacity by housing your entire digital world in one ultra-portable, always-available device. MINIMAL worked with Fasetto to create a whole new digital lifestyle experience.
New territory
Freedom in the palm of your hand
_
It's difficult to compare LINK to other competitors. There is nothing else quite like it. LINK combines a wealth of new and existing storage and connectivity technologies together to eliminate device storage capacity and network connectivity limitations. When you find yourself in a spot where the "cloud" isn't available, LINK shines.
Purposeful Design
so small, it's immense.
_
With up to 2TB of storage, the pint-sized LINK can handle a sea of data, boasting greater storage capacity than your laptop, phone, and tablet combined.
Redefining the category
Connect with anything, anywhere, at any time.
_
Lost in a jungle of non-compatible operating systems, devices, and platforms? LINK cuts though it all, with always-on Bluetooth and Wi-Fi capability that provides easy access and connectivity to wildly diverse types of software and hardware.
technology + lifestyle
Ultra-portable. Always-available.
_
Transport your entire digital world within a single minuscule device that's always right at hand.
designed to perform
Never break down while you're breaking free
_
LINK was engineered to be a tough customer able to take bumps, shocks, and drops, and has the highest dust protection rating available.
LINK boasts a remarkably durable and water-resistant polycarbonate exterior, so your data won't dissolve if it goes for a dip.
Your everything stays safely with you thanks to a ballistic paracord lanyard that securely attaches LINK to your wrist, pack, or purse.
Engineered for life
Big attention on the small details
_
A durable, waterproof, ultra-compact, ultra-portable 2 TB SSD with built in dual-band 5G wifi and LTE hotspot isn't easy. For once, having bluetooth is the least interesting feature. From the watertight USB-C port to the magnetic bayonet-style attachment for hardware accessories, we engineered long-term reliability and future product enhancements into LINK.
Our experience with constructing massive amounts of technology into compact spaces makes LINK easily portable as an essential item to keep with you everywhere you go.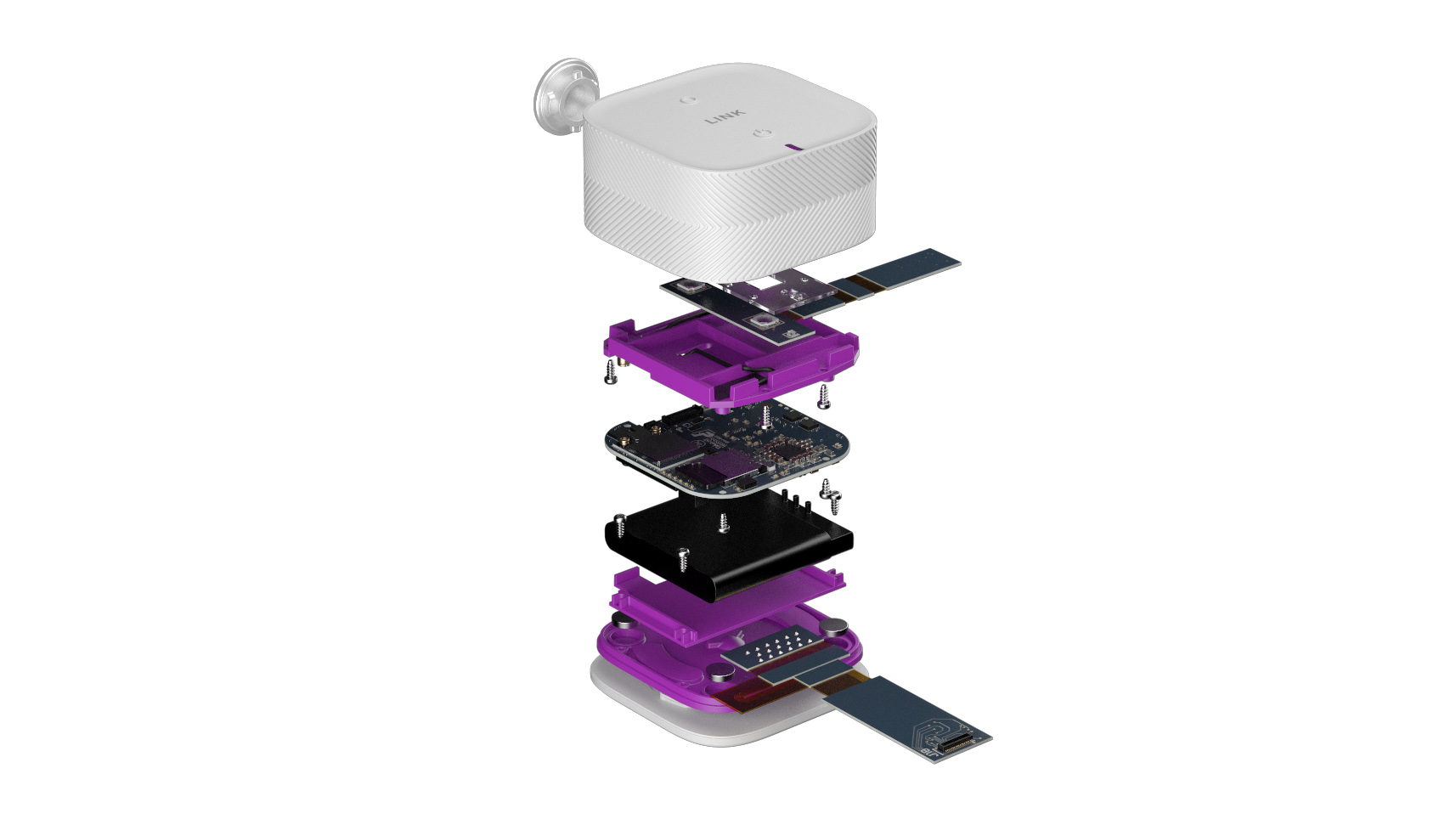 Brand identity
LINK shines where clouds disappear
_
The inspiration for the brand color palette came from a clear sky spanning dawn and dusk.
Always at hand, LINK is a powerful, personal computing platform captured inside an ultra-portable device. The brand icon shows a glimpse of that incredible power captured inside an infinitely looping path—demonstrating memory storage built to outlast your connected devices' lifespan.
User Interface
Your world at hand
_
Accessing and sharing your files anywhere is possible by using almost any connected web-enabled screen. The LINK app was designed and developed to work on iOS, macOS, Android, Windows—even your smart TV.
With linkOS, developers will be able to take full advantage of LINK's storage and computing features to help eliminate technological gaps in storage capacity and connectivity. Now, brands like Netflix can make it possible to download and binge on an entire season of Lost when you don't want to be found.